The Phoenix "Old and New" BBQ
Fort Campbell, 7 May 2004
---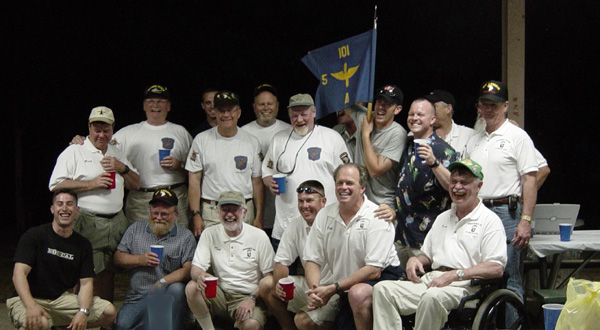 This was the first casual gathering of the New Phoenix after their return from Iraq, and they marked the occasion by inviting all of the Old Phoenix to join them for a BBQ at Fort Campbell.

Concluding the group introductions, Company CO Mike Reyburn announced that we would party till the beer ran out ... without mentioning that they would keep bringing more to ensure that such a catastrophe would not happen.

It was a terrific time, we started at noon and finally began to wind down around 2200. All had stories, and all had questions. How did we do things then, and how do they do them now? Many comparisons, many similarities, and many differences.

A special mention and thanks goes to Butch Doan, Old Phoenix 64. It was Butch who brought it to the attention of the New Phoenix that there had ever been an Old Phoenix. The foremost closing comment from all as things finally began to wind down, was "when can we do this again?" ... just the same as at any Phoenix gathering.

Back: Scrugham, Butler, (New), Davis, Green, Leonard, (New), Reyburn, Cassalia, Doan, Oder
Front: (New), Jewell, Olson, ("Mike" new), Bulmer, Mayberry

This photo was taken following 8 hours of nonstop party, so don't think we can't still do it...
New names will be updated as we receive corrections
More photos will be posted as received