Army Aviation Museum Replica Plaque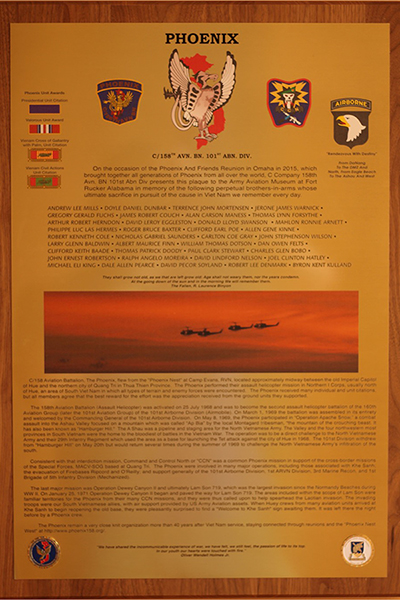 Flight... here is some information on how you can obtain a Phoenix brass plaque similar to the one in the Army Aviation Museum at Ft. Rucker.
The plates are made of brass and are 18X24 inches. The plaque in Rucker is mounted on wood but these are not. This a brass plate with no mounting which can later be framed or mounted on your own.
There is also an 18X24 version that is printed on polyester (mylar). This is a durable plastic and will have a four color printing process and will look like the brass plate only it is mylar.
The price for the brass: $76.30 each.
The price for the polyester/mylar: $23.30 each.
Please contact me via email and let me know which kind you want if you're interested . Some are getting both. Don't send any money because we're still not sure exactly how the order process is going to go down. My email is gbupdyke@aol.com.
If you know Phoenix pholks who aren't on this mailing list, please let them know about this. We'd like to have a ballpark figure on the numbers so we can forward them to the manufacturer.
I'm attaching two photos... one is the plaque in Ft Rucker (as pictured at right). I'm showing that one because the colors are more true than the other.
The other one (click on the PDF icon below) is in a large format so you can enlarge it and read everything. The final product will have the challenge coins printed on rather than using actual coins.

Some of you from Facebook have already contacted me concerning what you're interested in. If you've contacted me, you may disregard this email because I have your information.
Dean Grau has been working on this for months, and has done an excellent job of making this available to us. Thanks, Dean for making this possible.
Take care,
Bruce Updyke
gbupdyke@aol.com