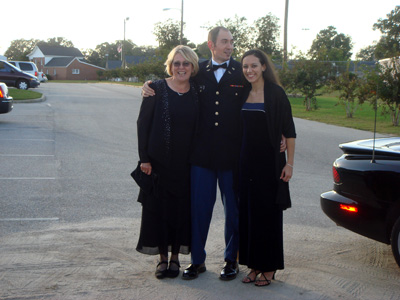 Russ in his new dress blues with Mom and Stephanie, heading for the Graduation Ball. Russ is casting a wary eye toward his Firebird, as the rest of the gaggle admire the Phoenix bird on its front grill.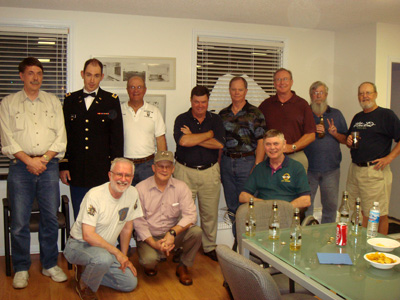 Back Row: Dean Grau, Russ Grau, Don Davis, Rick Scrugham, Dick Oder, Steve Butrym, Butch Doan, Bruce Updyke. Front Row: Ted Olson, Skip Parker, Ken Mayberry. (Don't worry, the Coke was for Updyke's rum.)
Back Row: Russ Grau, Steve Butrym, Rick Scrugham, Pat McKeany, Don Davis, Dean Grau, Ted Olson, Dick Oder. Front Row: Skip Parker, Ken Mayberry. Background: The new UH-60M Black Hawk.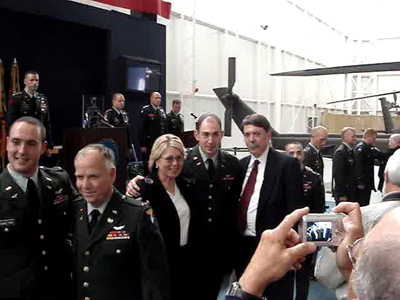 During the ceremony, each group of graduates waited at attention while family members came forward to pin on their wings. This pic is a frame from the video of Russ's turn,
click here to play
.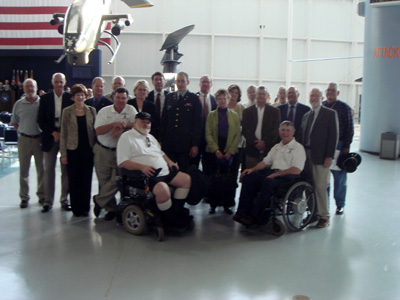 Standing: Bruce Updyke, Pat McKeany, Pam and Dick Oder, Marvin Green, Rick Scrugham -- Kerry, Dean, and Russell Grau -- Steve Butrym, Sue Mayberry, Pat Butrym, Butch Doan, Skip Parker, Don Davis, Ted Olson, Bill Rosser. Front Row: Jim Leonard, Ken Mayberry.